Our Advanced Chart Offering
Derived from official charts and private sources to provide navigational aids, spot soundings, depth contours, tides and currents, and detailed harbors and marinas
Depth Range Shading for up to 10 depth ranges enables you to view your target depth at a glance
Up to 1-foot contours provide a more accurate depiction of the bottom structure for improved fishing charts and navigation in swamps, canals and marinas
Shallow Water Shading feature allows for depth shading at a user-defined level to aid in navigation
Worldwide coverage available
Keep your charts up to date with our industry-leading New Chart Guarantee and discount card update program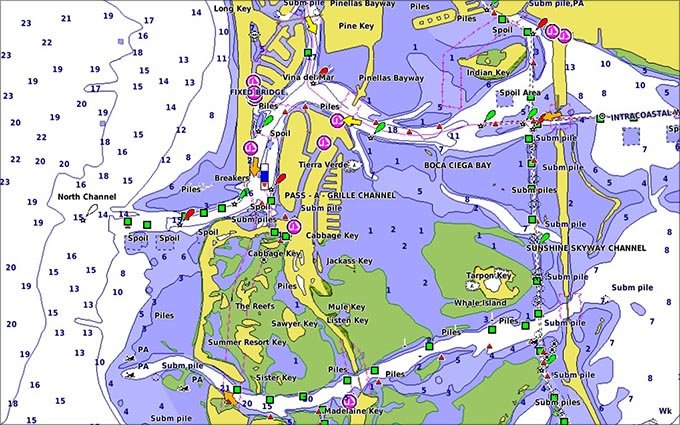 Advanced Chart Detail
Detailed charts help the mariner guide their boat in and out of port with confidence.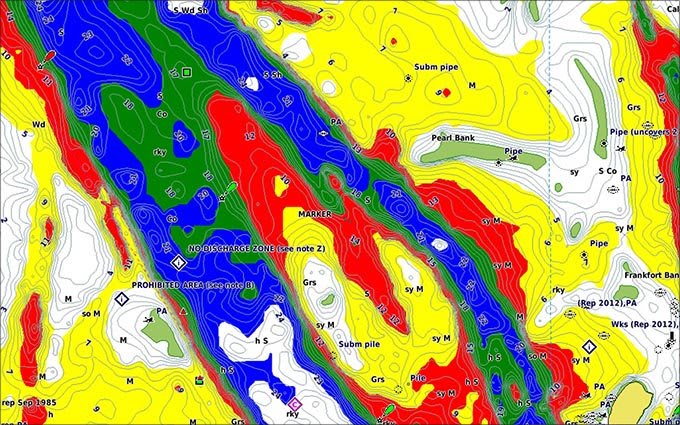 Depth Range Shading
Displays high-resolution Depth Range Shading for up to 10 depth ranges so you can view your designated target depth.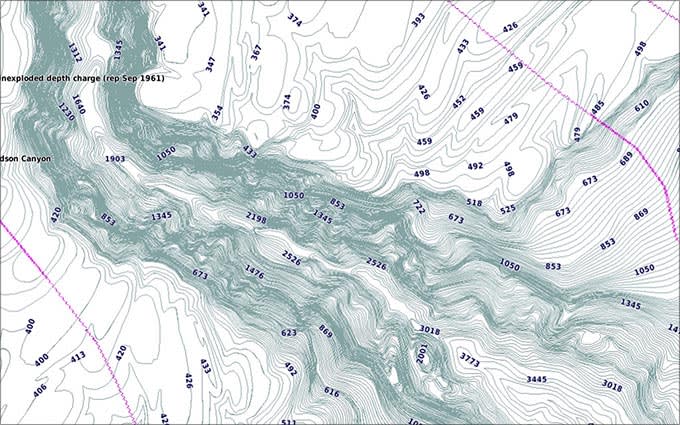 Detailed Contours
BlueChart g2 HD features 1-foot contours that provide a more accurate depiction of bottom structure for improved fishing charts and enhanced detail in swamps, canals and port plans.
BlueChart Feature Comparison
| Feature | BlueChart g3 Vision | BlueChart g3 |
| --- | --- | --- |
| Integrated Garmin and Navionics content | • | • |
| Auto Guidance¹ technology | • | • |
| Depth range shading | • | • |
| Up to 1' contours | • | • |
| Shallow water shading | • | • |
| Raster cartography² | • | • |
| High-resolution relief shading | • | |
| Unique 3-D views | • | |
| High-resolution satellite imagery | • | |
| Aerial photos | • | |
¹Auto Guidance is for planning purposes only and does not replace safe navigation operations
²Raster cartography is available for selected countries. It cannot be viewed on echoMAP CHIRP and ECHOMAP Plus combos but can be viewed on mobile devices via the ActiveCaptain mobile app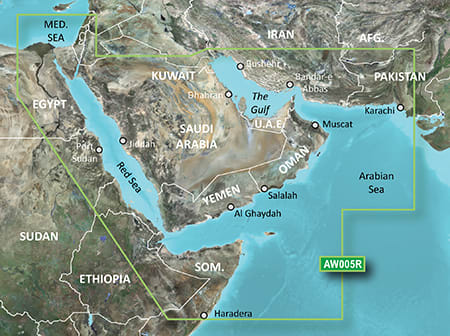 Coverage of the Arabian Penninsula beginning at the Mediterranean Sea from Beirut to Alexandria. Coverage includes the Suez Canal, Gulf of Aqaba, and the Red Sea and Gulf of Aden in their entirety. Includes the Strait of Hormuz, Gulf of Oman, and coast of Somalia in the south. Coverage the of Kuwait, Saudi Arabia, Qatar, United Arab Emirates, along the southern coast of the Gulf and Iran along the northern coast. Coverage of Yemen and Oman coasts along the Indian Ocean to the Gulf of Oman, including Pakistan along the north coast, with general coverage of the Arabian Sea from Qamar Bay to the Delta of the Indus River. Included in this overall general coverage are numerous detailed charts covering areas such as Alexandria, Egy., Beirut, Leb., Al-Fuhaihil, Ad- Dammam, Bahrain, Ad-Dauha, and Abu Dhabi.Jiddah, Sau., Djibouti, Dji., and Aden, Yem.